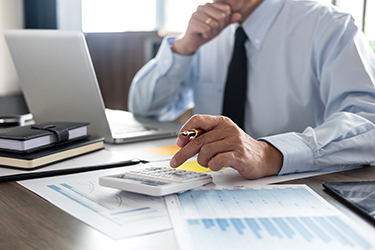 Sound financial management is the cornerstone to building a viable long-term enterprise. Your ability to manage your business effectively will be largely determined by the completeness and accuracy of the financial information, and your ability to interpret it to make sound business decisions. Together with management, FSS Group, Inc. can implement single project solutions or become an ongoing member of the management team.
Budgeting
---
A budget is a critical tool to allocate resources to maximize return on investment and help keep you on track with your business goals.
We can assist in developing a budget and analyzing the results on a regular basis to keep you on track.
Working Capital Management
---
Many businesses struggle because they do not properly manage working capital. While profitability does drive long-term cash flow, managing accounts receivables and payables is critical to meeting short and long term capital needs.
We can assist in analyzing working capital needs and performance and develop plans to maximize cash flow to meet company objectives.
Outsourcing
---
Often, businesses, especially in the initial stages of operation, cannot afford to hire full time employees to perform simple accounting, bookkeeping and office management tasks. We can ease that burden by providing those services on a part-time or temporary basis. As the business grows, the services can be tailored to meet the needs of a changing environment.